July 20, 2004 - Received an email from the Cooper Owen Auction House about some Ingrid items from The Inn of the Sixth Happiness that are up for auction on July 28th!

Here's the link to the photo and description of the items.

A wonderful black and white snapshot of Ingrid Bergman in character on location in North Wales during the filming of The Inn of the Sixth Happiness signed in blue ink Ingrid Bergman together with additional snapshots of the film's set in construction and completed, Bergman's co-star Curt Jürgens and the film crew . A fascinating document of how a part of rural Wales was transformed into Northern China. (17)
Estimate £ 200-300
The vendor's father was involved in building the film's sets.

Commission/absintee bids can be left on the website now and until the 28th July where the auction will be held live at http://www.ebayliveauctions.com.

Happy Bidding!
May 13, 2004 - Click here for Newsday's great article about the Ingrid exhibit at The Scandinavia House.
May 11, 2004 - There's a great interview with Isabella in the current (May 14th) issue of Entertainment Weekly. She is SO funny! kalias transcribed the interview - y'all can read it over at Alias Media. And here's the scan I made of the gorgeous photo of Isabella from the article. It was taken by Brigitte Lacombe who, I think, takes the most gorgeous pictures of Isabella.
May 3, 2004 - At the opening of the Ingrid exhibit at Scandinavia House, Isabella and sister Ingrid offered comments to Women's Wear Daily about their mother, Ingrid's thoughts on fashion:

Isabella admitted that her mother was more than candid with some designers. "I think she offended several designers by saying their clothes were too expensive," said Isabella. Her twin sister, Ingrid, went on: "People attacked her for it and she said, 'I just said the truth. How can someone pay so much money for a dress?'" Despite her disapproval of their prices, the exhibition proves that Bergman was impressed some stunning dresses from the likes of Nina Ricci, Christian Dior and Balmain.
May 2, 2004 - Isabella's daughter, Elettra, has been named one of People magazine's 50 Most Beautiful People. She's so fun and witty! Click here for the photo and article.
April 30, 2004 - I envy you New Yorkers! Y'all get the chance to see the Ingrid exhibit at Scandinavia House May 1 - July 17, 2004.

Here's Looking at You, Kid takes an intimate look at the remarkable life of Ingrid Bergman, from her tragic childhood and early film career in Stockholm to her rapid rise to international stardom and her dramatic personal life. The exhibition features home movies starring Bergman as a young child as well as photographs taken by her family, Bergman herself, Hollywood studios, and renowned photographers (including Cecil Beaton, Bob Capa, David Seymour, and Lord Snowden) that capture the actress from her early childhood to the last weeks of her life. Also on display are gowns worn by Bergman in Indiscreet, her three Oscar statuettes, film posters, passports, and personal correspondence with Alfred Hitchcock, Ernest Hemingway, James Stewart, and others. The objects was organized in collaboration with the Wesleyan University Cinema Archives and Ingrid Bergman's daughters: Isabella Rossellini, Ingrid Rossellini, and Pia Lindstrom.

Gah, I want to go so bad!! Found some great pics of Ingrid's kids (all of them)at the preview opening of it last night.

The siblings: Pia, Ingrid, Isabella, and Roberto
Sisters: Ingrid, Isabella, and Pia
Isabella
April 27, 2004 - What a crazily imaginative movie Isabella's new film, Saddest Music in the World looks to be. The Official site has the fabulous trailer. Boy, I wish I was in NY so I could see it when it opens this weekend.

I've been reading director Guy Maddin's unique and strange Production Diary of it over on Village Voice. Be sure and check it out - the pics are priceless.
April. 17, 2004 - There's a great Isabella interview in the May/June issue of the official Alias magazine. It's ridiculously overpriced, but, well, it's Isabella y'all!

I've scanned the three page interview, as well as a cute little article about how Isabella was fooled by the realistic Italian footage on the show.

Small article
Interview page 1
Interview page 2
Interview page 3
Feb. 17, 2004 - Last night was Isabella's stage debut in The Stendhal Syndrome. The play's getting mostly favorable reviews, with Isabella in particular being praised. Here are some links to various articles and photos:

Getty Images
New York Post
Playbill
Broadway.com
NYNewsday.com
Jan. 19, 2004 - Come on, how f*cking brilliant was Isabella on Alias last night! WOW! Completely exceeded my expectations, and then some. From the moment she walked in she commanded respect, and was completely mesmerizing. That's what you call presence.

Ooh, she was so good as Katya - strong, powerful, enigmatic, sexy, and damn quick with the sharp objects! Boy, the message boards were super active last night! The boards kept crashing and even our chatroom kept getting stuck as we were singing her praises!

Thank you Isabella for bringing the excitement back to Alias that has been missing all season!
Jan. 16, 2004 - There's a nice interview with Isabella in today's New York Times. She talks about her upcoming theater debut among other things.
Dec. 29, 2003 - Here are the first pics of Isabella from the upcoming episode of Alias!! Big thanks to Gertie at Alias-Media for these pics!

This episode airs Jan. 18, 2004.
Dec. 22, 2003 - I've got a new favorite member of Ingrid and Isabella's family - Tommaso, grandson and nephew respectively. Much to my incredible surprise and delight this young man wrote me a message to thank me for this site!

*thud*

Ya wanna know what he said? Good.

thank you so much for honoring my dear aunt and beautiful grandmother. it is truly humbling, and appreciated as a respective member of the family.
inspiration and admiration are the true driving forces of life, and this stands as a great monument to both of them.

our thanks,
tommaso rossellini

What a sweetheart! And so eloquent.

On cloud nine!
Dec. 22, 2003 - How great is it that Isabella is going to be guest-starring on my favorite show Alias? Pretty darn great, I'd say! And I'm not the only one looking forward to it - various Alias message boards are buzzing with excitement about her upcoming episodes.

Isabella, in her usual witty and self-depricating way, told Entertainment Weekly a little bit about her role.
June 4, 2003 - How appropriate is it that August, Ingrid's birth month, is when two special dvds of her's will be released? August 5th is the date when a 60th anniversary edition of Casablanca, as well as The Inn of the Sixth Happiness will be released. Here are the specs on the bonus features:

The legendary Casablanca -- which starred Humphrey Bogart and Ingrid Bergman, won three Academy Awards including Best Picture of 1943 and went on to become one of the most popular and enduring movies of all time -- will celebrate its 60th anniversary with a Two-Disc Special Edition DVD from Warner Home Video (WHV). The DVD will be released August 5 and will be available for $26.99 SRP.

To honor the release and the 60th anniversary, a gala tribute screening is slated for August 11 at New York's Lincoln Center, attended by Humphrey Bogart's wife Lauren Bacall and their son Stephen Bogart and Ingrid Bergman's daughter, Pia Lindstrom.

The Two-Disc Special Edition DVD features a stunning new digital transfer plus four hours of bonus materials including many newly discovered and never-before-seen extras. Among these special features are the two documentaries hosted by Bacall; interviews with Stephen Bogart and Bergman's daughters, Pia Lindstom and Isabella Rossellini; ten minutes of newly-found deleted scenes and outtakes; TV and radio shows inspired by the film; a cartoon take-off; scoring sessions; audio program; vintage trailers and more.

"We were pleased that recent advances in digital technology allowed us to revisit the early restoration work and create a new digital re-master directly from nitrate picture and sound elements, significantly improving the image and sound for this new DVD release," said Ned Price, vice president technical operations mastering for Warner Bros. Entertainment Inc.

Fox Studio Classics release of The Inn of the Sixth Happiness will include a remastered 2.35:1 anamorphic widescreen transfer, English 2.0 stereo and French and Spanish mono dubs, two Sean Connery screen tests, two Movie Tone News reels (Inn of the Sixth Happiness - Rapturous and Hollywood Premiere), a still gallery, and two theatrical trailers.
May 29, 2003 - Bad Michelle! Bad! ::slaps wrist:: Yeah, it's been ages since I updated. Whoops!

So, did y'all catch the Robert Capa documentary on PBS last night? Excellent, excellent film. It always astonishes me when a filmmaker can take a life as full and vivid as Capa's was, compress it all into an hour and a half show, and still capture and give the audience a sense of his spirit!

There was of course a short recap of his relationship with Ingrid. What made it so special was that Isabella did most of the storytelling in this part, looking very beautiful and speaking eloquently, reading excerpts from her mother's autobiography. I adored how well-worn the copy of the book she was reading from looked! It appeared as though it had been read and re-read about a million times! I wonder if this was Isabella's personal copy?

PBS's site has some additional footage online, including four terrific little interviews with Isabella. You can view them here.

As I was watching the program last night I was struck by how much the young Capa resembles a young Scorsese, and how all their lives are sort of oddly intertwined. Consider: Capa captivates Ingrid - she later falls in love with Rossellini whose work and larger than life personality is similar to Capa's - their daughter Isabella remarkably resembles her mother, worships her father and falls in love with Scorcese who looks like Capa (to me anyway) and worships the films of Rossellini's. Oh, and Scorsese's mother or grandmother's maiden name was Cappa! Weird much?
Jan. 16, 2003 - It's awards season for movies, and Isabella attended the National Board of Review Awards in NYC on Jan. 14th. I don't think she was nominated for anything - not really even sure how these particular awards work. But she looked lovely in a vibrant red outfit. You can find three photos of her in the Isabella Candids section. Enjoy!
Jan. 15, 2003 - It's West Side Story for Isabella. No, not the musical. She's moving into her new apartment on the West Side.

"Isabella Rossellini is switching sides. The 50-year-old screen siren, a long-time Upper East Side resident, has bought a duplex penthouse on the West Side for $2.25 million, reports The Post's Braden Keil. The daughter of Ingrid Bergman sold her 10-room digs on East 85th Street for $4.6 million last August. Her new pad has three bedrooms and features a double-height living room, fireplaces, two terraces and park views."

- New York Post
Jan. 14, 2003 - Hi. My name is Michelle and I'm an idiot. [Hi Michelle!] I will be picking up my lifetime (36 year) chip today.
All right, you know that book I got for Christmas Stars on the Set? The one I scanned the Ingrid and Gary Cooper pic from? Christmas was not even, what, a month ago right? You might assume I would remember there were two, as in more than one, photos of Ingrid in the book. Well, you would be wrong in that assumption. Welcome to the confusion that is my mind.

So without further ado, here is the second Ingrid photo from the book. There are no other pictures of her in it. Really. I promise (though there is one of Julie Christie on page 50 that looks rather strikingly like Ingrid). Now, I may be a bit slow, but I do know that the book's caption for the photo of Ingrid and Roberto is wrong. It says that it is from the set of Stromboli. Nuh-uh. Ingrid's hairdo is a dead giveaway that it is clearly a post-Stromboli picture. It could be a shot from the set of Europa '51, Voyage to Italy, Fear, or maybe she was visiting him on the set on one of his non-Ingrid films. If anybody knows which it's from, please drop me a line at ingridandisabella@yahoo.com. Thanks.
Jan. 13, 2003 - Men...who needs 'em! Isabella apparently doesn't. On Letterman recently she sidestepped his pryings into her love life by claiming she wasn't seeing anyone because her two children "are very jealous." She offered more reasons in the following article.

Isabella needs no fella
January 13 2003

Actress Isabella Rossellini says she doesn't need a man and says her goal in life is not to atttract men.

The former face of cosmetics giant Lancome, 50, who once described her beauty as a "curse", said: "I'm single and very happy that way."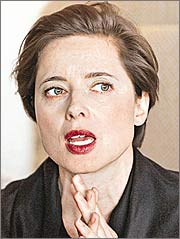 "Many women depend on men socially, financially, psychologically. Not me," she told The Mail on Sunday magazine. "The problem is that men always want to compete with you; it's their nature."
The twice-married mother of two, who was unceremoniously axed by Lancome when she turned 40, denied that all women yearn for eternal youth.
"The idea that women feel desperate about ageing is, I think, more a media myth than a reality," she said.
"I'd be bored if I were 20, because I'd still be doing the same things."
Rossellini, the daughter of screen legend Ingrid Bergman, now models for classic clothing label Viyella and is preparing to launch a second perfume following the success of her Manifesto scent.
- The Sydney Morning Herald
Jan. 8, 2003 - Got some more photos for y'all! Some of these I was supposed to have added on the last update, but um, due to some forgetfulness on the part of your's truly, I well, forgot to include them. So, better late than never, here are the three other Isabella Portraits that my pal Mary Hutchings kindly scanned.

I've added some great photos of Ingrid from the photo site Rex. They do have those irritating stamped watermarks, but even so, they're very nice. A very youthful Ingrid can be seen here. Three color stills from her films Notorious and A Walk in the Spring Rain are in the Ingrid Movies section.

Here's a sorta silly news item for you. This morning I "Googled" Ingrid on their news section and up popped this interview with Halifax Daily News columnist Harry Flemming. I have no idea who this guy is but his comment about Ingrid caught my attention. Here's the quote:

Q: Who would you most like to bed?

A: Ingrid Bergman and, post recovery, Katharine Hepburn. They were regal ladies who exuded decent sex.

"Decent sex"? I thought it was supposed to be indecent! It reminds me of that Woody Allen answer to the question "Is sex dirty?". Woody replied, "If it's done right it is." I always loved that quote!

Finally another shameless plug for my Lena Olin site. You may notice I added a Lena logo on the homepage of this site, as well as another Lena logo (doesn't that have a nice ring to it?) to the Links section. Not that I'm pushing the site or anything. Yeah right. Enjoy!
Jan. 4, 2003 - A nice way to start off the new year - a Photo Update! For Christmas I got a great photo book (thanks Mama!), Stars on the Set which has a big two page spread of Ingrid and Gary Cooper during a break from filming For Whom the Bell Tolls. You can have a look here.

Many thanks to my good friend Mary Hutchings for scanning a couple of Isabella pics from Isabella's latest modelling campaign. You can find them both in the Isabella Portraits section.

And I have added a few Monte Walsh photos to the Isabella Movies section, including a nice pic of Isabella and Tom Selleck from the current issue of TV Guide. Looks like the western genre suits Isabella just fine!
Jan. 3, 2003 - Happy New Year! Clearly my New Year's resolution should be to update this site more frequently. "Damn straight!", you say? Yeah, I know, I know. I could fib a bit and say I have been super busy, but in truth I've just been lazy. Well, lazy and way too obsessive about the tv show Alias and its new cast member, Lena Olin as Evil Spy Mama. Yep, I have even made a site on her Lena Olin - what is it with me and these Swedish actresses?! I guess if you ever see me making a site on Liv Ullmann then you'll know for sure I have a serious fixation and should probably seek help. Anyways.......
How 'bout some News? The lovely Isabella made another one of her fun apperances on Letterman on December 27th. I don't think it was so much to promote any project of her's (though they did discuss her book Looking At Me and briefly mentioned Roger Dodger.) Seemed to me more like Isabella was just dropping by to visit her ol' pal Dave who really wasn't molesting her in this picture - he just couldn't resist touching Isabella's self-cut hair. She talked about Christmas which she and her family (30 of them) spent at the circus! She said she usually has everyone over at her house but she's in the process of moving and the new place wasn't ready yet (she's not too thrilled with the contractors). A highlight for us Ingrid fans was when Isabella explained to the audience that her mother Ingrid Bergman was in Casablanca. Dave got sarcastic, "Oh, is that right? I'll have to look for her next time it's on." Isabella said, "No, some people, I tell them my mother did Casablanca and they say "Well who was she?". Dave says, "Well you know those people who say that.....they're idiots". Another favorite line of the evening was Dave's joke about the backcover photo on her book, which is a shot of the back of Isabella's head and she's running her hand through her hair. Dave dubbed this, "Looking for ticks" which completely cracked me up.
Speaking of Isabella and hair and cracking me up, check out the wig she wears in Empire. What a hoot! She's plays a drug queenpin which must have been a welcome change of pace for her. Reviews have been mixed - a few called her horribly miscast while other (more openminded) critics praised her for playing it to the hilt. I haven't seen it yet, but I'll go with the latter opinion.
Isabella's tv movie Monte Walsh will premiere on TNT on Jan. 17th. The TNT website has some features on it including some pictures and interviews with Isabella and the rest of the cast.
That's it for now! Happy 2003!
Oct. 15, 2002 - Isabella is scheduled to make a guest appearance on the talk show Live with Regis and Kelly on Wed., Oct. 23, 2002.
Oct. 1, 2002 - Here are some photos of Isabella at the booksigning the other day.

photo #1
photo #2
photo #3
photo #4

- IBL
Sept. 28, 2002 - "Isabella will be signing her new book, "Looking at Me," tomorrow at Barnes & Noble in Rockefeller Center"

- PageSix.com
Sept. 20, 2002 - Many more photos of Isabella promoting Napoleon

Photo #1
Photo #2
Photo #3
Photo #4
Photo #5
Photo #6, premiere night 9/19/02
Photo #7, premiere night 9/19/02
Photo #8, premiere night 9/19/02
Photo #9, premiere night 9/19/02
Photo #10, premiere night 9/19/02

- Photos Sebastien Coufour, Gamma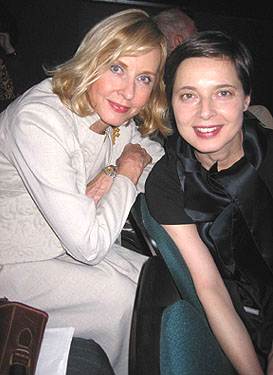 Sept. 12, 2002 - Isabella and her sister Pia Lindstrom attended the opening night show of the off-Broadway play Roman Nights, which tells the story of the friendship between Italian actress Anna Magnani and playwright Tennessee Williams. Magnani was the actress whom director Roberto Rossellini dumped in favor of Ingrid Bergman (in retaliation Magnani memorably dumped a plate of pasta on Rossellini's head when she learned of the affair). According to Broadway.com Magnani has a one-sided conversation with Rossellini in the play, and speaks of him as her great love, but I don't think he is a character in the show.

- Photo by Aubrey Reuben, www.playbill.com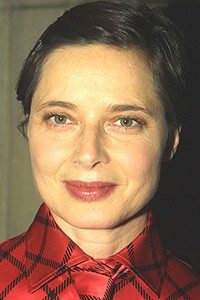 Sept. 11, 2002 - Isabella participated in a special theater production to honor those lost on Sept. 11th.
"Theater folks from all over gathered together at Town Hall to remember the tragic events of September 11, 2001. The special theater marathon entitled Brave New World, commemorates the one-year anniversary of the attacks with performances and songs (from Spetember 9 through September 11, 2002). Proceeds from Brave New World will be donated to The New York Children's Foundation. The N.Y.C.F. was founded to benefit the children who were affected by events of September 11 and its aftermath. Broadway.com attended the event on September 9 and took photos of the big-hearted stars who participated."

- Photo by Bruce Glikas for Broadway.com
Sept. 10, 2002 - I found an online article on Isabella talking about her mother Ingrid, but it's in German. Many thanks to Monica and her friend who is fluent in German for the translation!

Isabella talks about how her mother is still very present to her despite her death 20 years ago:
"If the door rings, then I think still today: That is Mama! It is absurd, but it is like that." Rossellini envies her mother. "She (her mother) had a great love for her father Roberto Rossellini. And I (Isabella) have not found that yet". Isabella also said "If I see old photos, often think I: Is it Mama, or is it me? We look exactly alike. But our characters were different. She was also a very passionate woman. She was a wonderful lady and very private. It was either black or white. The word compromise was for her was a foreign word."

Below is the link to the German article

- http://www.n-tv.de/3064902.html
Aug. 22, 2002 - Isabella has landed a prestigous modelling contract with one of Britain's biggest fashion houses at the age of 50. The 220-year-old Viyella label has snapped up the half-Swedish, half-Italian beauty for their new line, and even brought in fellow Swede Blaise Reauterswald to do the campaign shoot for the classic/contemporary collection. Isabella personally picked out many of clothes she modelled for the photo session.

"We wanted someone who represented a free spirit," says Viyella's marketing manager Graham Sim. "Someone with natural beauty and public recognition. People love the fact that Isabella is Ingrid Bergman's daughter. She's classy, intelligent and has spoken out on age issues, having been dumped by Lancome. She also looks rather good in our clothes. "We didn't set out to revolutionise the brand. We hope that by using Isabella, who is a great role model to all women, and by launching a contemporary line, we will attract new customers."

- Hello Magazine.com
Aug. 10, 2002 - Isabella in a remake of Autumn Sonata? Not quite, but she did do an interesting fashion feature for Interview magazine last month that evokes memories of that famous film of her mother's. The piece is called A Magazine Movie and at first I thought it was going to be one of those pretentious fashion layouts that try to be overly serious, all the while appearing utterly silly. But to my welcome surprise this piece achieved it's goal of drawing me into the enigmatic storyline with it's film noir-ish text and stylish photos.

I've included links to it in two sections of the site, not certain whether to categorize it as Portrait or Article seeing as how it could be described as both. So you can click on either of those sections to find it, but to make things even easier for you, here's a direct link: A Magazine Movie. Enjoy!
Aug. 1, 2002 - UPDATE Finally, a photo update! Been a while, I know. This is a small, but very choice update and I owe it all to my friend in China, Xu Min. She scanned the three new pics for me and I just adore them! You can find them in the Ingrid Family and Candids album. My absolute favorite is the color photo of Ingrid and Isabella in 1967 - this is now my all-time fave of them together. Thanks again to Min!
July 9, 2002 - Isabella's new book,Looking At Me, which was published in Germany earlier this year, is being released in the U. S. on Sept. 15, 2002. Loaded with photos of the gorgeous actress, it should be a delight for her fans.

From the introduction:
"Was this exhibit and book, after all, the ultimate display of my own narcissism? Please don't look at it this way . . . though ultimately, I must admit it, it may just be one . . . DAMN IT! --Isabella Rossellini"
June 18, 2002 - The Spanish site Hola has a feature on Isabella today in honor of her birthday. The article is very similar to the one I mentioned below, about her party in Bellport and her "liberartion" from the trappings of beauty. I'm including the photos from the article, and a link to it as well.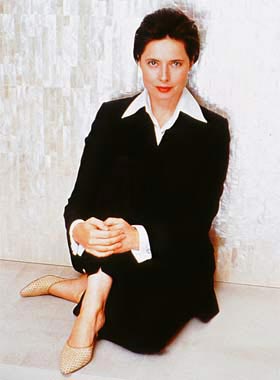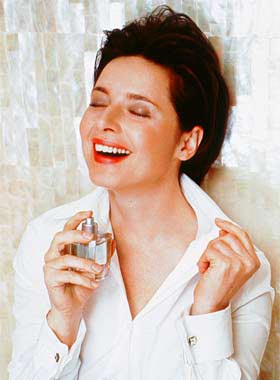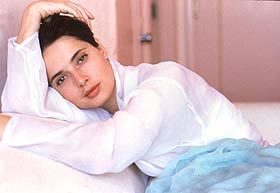 June 18, 2002 - Happy Birthday Isabella! It's the big five-o for her and her twin sister Ingrid. Hope they have a most wonderful day! Based on an article I found, sounds like Isabella's got a fun day planned. The article is in Spanish (not a language I'm fluent in unfortunately) so as best as I can tell from the translations on Altavista and Google she will be celebrating by throwing a big party for all the residents of Bellport, the town she lives in on Long Island. Here's the translated quote:

"She has invited all the inhabitants of the small locality in which she outdoors resides in Long Island (in the neighborhoods of New York) to a celebration with fireworks and barbecue next to the sea."

Man, I sure wish I lived in Bellport!! Ought to be a blast.
Here's the link in case any of you fans are fluent in Spanish. http://www.elpais.es/articulo.html? d_date=20020615&xref=20020615elpepiage_7&type=Tes&anchor=elpepiage
June 14, 2002- The American Film Institute recently had another one of their "100 Best" specials and Ingrid's film Casablanca was chosen as the #1 Most Romantic Film of all time. Deservedly so in my opinion. Another Ingrid film made the list - Notorious came in ranked somewhere in the seventies I think. Oh well, there goes the list's credibility.

I missed the special but I loved Liz Smith's comment about it in her NY Post column today:

"If nothing else the special reminded me that Ingrid Bergman was one of the genuine flat-out natural beauties of all time. There was Ingrid, and then there were the others."

So, true, Liz, so true.
May 23, 2002- Isabella's new film has found a distributor:

"ROGER" WINS AGAIN

By MEGAN TURNER
May 23, 2002 --
The biting comedy "Roger Dodger," which recently won an award at the inaugural Tribeca Film Festival, has been picked up by Artisan Pictures. "Roger Dodger," about a womanizer who takes his teenage nephew out out one night - and discovers a new respect for women, stars Isabella Rossellini and Jennifer Beals, and marks the directorial debut of Dylan Kidd. "In addition to being very funny and receiving the Tribeca Film Festival accolade, Dylan Kidd's work is supported by great performances," Artisan's Patrick Gunn said yesterday. Artisan plans to release the film in the fall.

- New York Post
May 20, 2002- If you're in Boston on May 23 and May 26 be sure and catch a screening of Isabella's film The Sky Is Falling. Here's what the Boston Globe has to say about it:
"Actress Isabella Rossellini captivated the audience when she introduced her film The Sky Is Falling in the Boston Jewish Film Festival's premiere screening at the Coolidge Corner Theatre in November. Rossellini won't be on hand when it has an encore screening at the Museum of Fine Arts May 23 and 26, but her performance in the film by Andrea and Antonio Frazzi, set in Italy during World War II, is worth catching."
May 13, 2002- Isabella's new film Roger Dodger won the award for Best Narrative Feature at New York's first ever Tribeca Film Festival. Directed by Dylan Kidd, the movie is about a teen-age boy's night out in Manhattan with his playboy uncle, and also stars Campbell Scott, Jennifer Beals and Elizabeth Berkley.
April 18, 2002 - Isabella will join Tom Selleck for a western to be shot in Calgary in June. The actress and model will star in Monte Walsh, based on Jack Warner Schaefer's book, Sun sources confirm. The project, which is being produced for the U.S. cable channel TNT, will see Selleck play an aging cowboy who refuses to adjust to the changing west. Rossellini will play Selleck's love interest.


By KEVIN WILLIAMSON Calgary Sun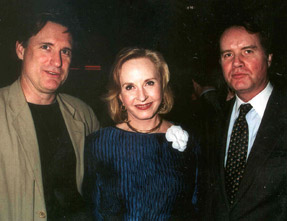 Mar. 19, 2002 - Ingrid's daughter, Pia Lindstrom, recently attended a kickoff party for The American Theatre Wing Gala. "The gala, which takes place on Monday, April 15, 2002 in the Grand Ballroom of the Waldorf Astoria, will benefit The American Theatre Wing's educational and charitable programs." Here's a photo of Pia with her husband Jack Carley (on the right) and actor Bill Pullman.

- photo and text David Patrick Columbia/NewYorkSocialDiary.com
Mar. 18, 2002 - Good news fellow Isabella fans....her most famous and twisted film Blue Velvet is coming out in a special edition dvd release on June 4, 2002. Should have a pristine look and will have those wonderful bonus features. Here are some of the goodies to be on the disc:
*New Digital Anamorphic Transfer Supervised by David Lynch
*Mysteries of Love Documentary Featuring Rare Interviews with David Lynch, Isabella Rossellini, Kyle MacLachlan and Other Cast and Crew
*Are You A Pervert? Deleted Scenes Featurette
*Siskel and Ebert Critical Review
*Photo Gallery
Mar. 18, 2002 - The New York Times reports today that Ingrid's film Casablanca is to be the subject of an ambitious online scholarly study, "Casablanca: A Critical Edition," headed by the American Film Institute and the Georgia Institute of Technology. The upcoming website is in the developing stages right now. Georgia Tech professor Robert Kolker, who is co-supervising the project says, "There will be analysis for every shot in the film. It will be cross referenced and heavily multimedia. There are a lot of very minute details." The site is not likely to be free, and I'm not sure if it'll be open to authors and students only, but it'll be interesting to see how it progresses.
My favorite bit in the piece is by the article's reporter, Matthew Mirapaul, "Here's clicking at you, kid."
Mar. 15, 2002 - Euro Disney opened new cinema theme park outside Paris and Isabella narrates a Tram tour for Italian speaking visitors. Maybe I should point out that it is a recording of Isabella - now y'all aren't seriously thinking she's working at Euro Disney giving Tram tours?! Allrighty then - glad we got that cleared up.
Mar. 15, 2002 - Isabella is featured in the April 2002 issue of In Style magazine. She penned the article "Getting Gorgeous" herself, though I'm kinda doubting she came up with that title. But then, who knows. Highlighted quote from it:
"For me, it's essential to be comfortable. There are a lot of beautiful things that are too hard to wear: tight skirts, high heels. I'll wear them out if I know I'll be home in two hours, but most days I'm out from 8am to 7pm. Men's suits have been my solution. They are incredibly comfortable and sexy. A corset is beautiful, but you can't sustain in it!"
Ain't it the truth. Not that I've actually worn a corset or a man's suit, but I'll go with Isabella on this. I can however vouch for the tight skirt, high heels thing being most uncomfortable.
For the photos from this article Click Here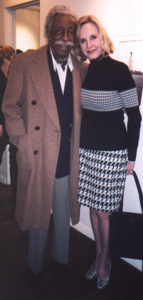 Mar. 1, 2002 - Here's a photo of Ingrid's daughter Pia Lindstrom with famed photographer Gordon Parks at last week's birthday party for photgrapher Jill Krementz, wife of author Kurt Vonnegut, in NYC. Parks took many photos of Ingrid throughout his career - some of his photos are displayed on this site, as well as an excerpt from his book Half Past Autumn detailing his memories of Ingrid and Roberto on the island of Stromboli. It can be found in the Articles section.

- Photo by Jill Krementz. Source:New York Social Diary.com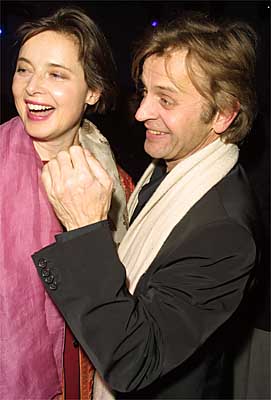 Feb. 27, 2002 - Isabella and former co-star Mikhail Baryshnikov at the after-party celebrating Mark Morris's opening night of his Dance Group's new show 'V' held at BAM.

- Photo by: Marion Curtis/StarPix - PageSix.com
Feb. 27, 2002 - Isabella will begin filming a new movie in April. It's titled The Wedding Contract and also stars Sigourney Weaver and Bill Murray. It sounds like fun based on this description
"An uptight WASP couple (Murray, Weaver) meet their new in-laws, only to discover they're... in the Mafia."
I got this info from Greg Dean Schmidtz's great site UpcomingMovies.com. Check out his site for more details on the film. I'm assuming Isabella will be playing one of the Mafia in-laws.
Feb. 21, 2002 - Anybody got 5 and a half million bucks to spare? If so you can buy Isabella's NY penthouse:

"ISABELLA IS A SELLIN' FOR $5.49M

STAR of "Blue Velvet," Isabella Rossellini is selling her predominately pink penthouse apartment on East 85th Street for $5.49 million. The sprawling prewar spread has 3,000 square feet of interior space and 3,200 square feet of outdoor terraces with a greenhouse and panoramic city and park views. Inside the 10-room residence are 4 bedrooms, 4 baths, a formal dining room, large kitchen and living room with a woodburning fireplace. Isabella's reps assured us she is not moving away from the city, although she has a home on the South Shore of Long Island. Perhaps the place was too big for the single actress, who will turned 50 in June and was briefly married to director Martin Scorsese. Richard Healy of Halstead has the exclusive listing."

By BRADEN KEIL NY Post
Feb. 14, 2002 - Well, I never thought I'd find a connection between Ingrid and the Enron scandal, but the brilliant folks at this site have created a short spoof of Casablanca (i.e. White House) that is hilarious.
Feb. 14, 2002 - For Valentine's Day the NY Post asked celebrities to name their "all-time top romantic movie". Guess which Ingrid film was named?

"GREG KINNEAR (As Good As It Gets): I have to go with a classic - namely, "Casablanca." Bogey and Bergman were the best. I read that during filming, the screenwriters and the director made a lot of it up as they went along and that makes the experience of watching that film even better for me."

- By NEIL ROSEN NY Post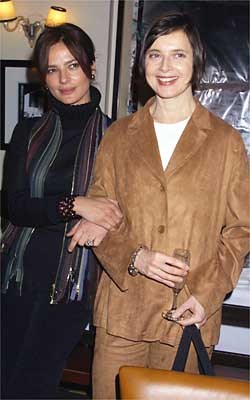 Feb. 11, 2002 - Isabella hosted a screening of the Italian film The Son's Room on Jan. 23, 2002. Here's a pic of her with the film's star Laura Morante.

- courtesy of PageSix.com
Feb. 11, 2002 - A silly little Ingrid connection that I find interesting (you may or may not - sorry in advance).
The participants: Great cartoonists Lynda Barry (The Good Times Are Killing Me) and Matt Groening (The Simpsons), and respected author Joseph Heller (Catch-22).
The connection: In a nutshell, Lynda and Matt are great friends since college, where turns out both were huge Heller fans. Matt just had to meet Lynda after finding out she struck up a correspondence with Heller. Now, here comes the Ingrid part - to ensure that Heller would write back to her, Lynda wrote "Ingrid Bergman" as the name on the return address! Ingenius. Can't you just picture Heller opening his mail and thinking, "Hey wow, I got something from Ingrid Bergman.", and it's actually from the goofy, funny, brilliant Lynda Barry?!

I found this little tidbit from Lynda's site http://www.marlysmagazine.com/ - just click on her F.A.Q.'s for the Groening's illustrated explanation of their meeting.
Feb. 11, 2002 - The DVD of Isabella's film Blue Velvet contains an Easter Egg aka a hidden bonus. It's a very short collage of images from the film. It's probably more fun if you're on drugs, but I enjoyed it just fine stone-cold sober. Visit this site DVD Easter Eggs for details on accessing it.
Jan. 15, 2002 - Isabella's delightful film Cousins is released on DVD today. Isabella turns in a subtle and utterly charming performance in this sweet comedy. It's a bit of a throwback to the fun romantic movies from the 50s. Of all of Isabella's movies, this is the only one I can picture as something Ingrid herself might have starred in.
Dec. 4, 2001 - Isabella will be a guest on Martha Stewart's CBS Christmas special Home for the Holidays, airing Dec. 4th at 7pm central.

postscript: Well, what a big fat dud that turned out to be! Isabella was on for all of about 1 minute, very briefly describing visiting various churches on Christmas Eve as a kid. Too much Martha, not enough Isabella.
Nov 27, 2001 - Isabella's film Empire will premiere at the 2002 Sundance Film Festival, in the American Showcase section. The movie, from first-time director Franc Reyes, is about the unusual convergence of two high-powered and successful men, a young Latino hustler and drug dealer from the South Bronx and a Wall Street investment banker.It also stars John Leguizamo, Ruben Blades and Sonia Braga.

- Yahoo Daily News
Nov. 6, 2001 – Isabella writes a letter to the NY Times in defense of Italian writer Oriana Fallaci:

November 6, 2001
In Defense of Fallaci

To the Editor:

In "Provocateur Is Back to 'Spit on' Detractors of U.S." (Rome Journal, Oct. 30), you call Oriana Fallaci a "professional provocateur." Ms. Fallaci is one of the most respected writers in Italy and one who has achieved world fame. Her articles and books have nourished our souls and stimulated our brains, not to mention the examples she has set with her courageous life, which has been an inspiration to women of my generation.

In the aftermath of Sept. 11, my brain froze, incapable of coming to grips with the horrors we had just experienced. Oriana Fallaci's powerful article, printed in Corriere della Sera, shook me up out of my stupor. Her informed, witty, warm, bold, intelligent writings have often had that effect on her readers.

Instead of thanking Ms. Fallaci for defending and praising America, you chose to insult her. As an Italian who has become an American citizen, I felt profoundly embarrassed and ashamed by it.

ISABELLA ROSSELLINI
New York, Nov. 5, 2001
Oct. 26, 2001 – Isabella is quoted in Cindy Adams' column in the NY Post: "It is thrilling to be in New York now. To see its resiliency, its strength, the unity. Italy has ancient roots but was actually only formed 50 years ago. We lack that sort of enormous well of patriotism that all of us see here in this city at this time."
July 26, 2001 – Isabella has launched her own website! To promote her Manifesto line, she has come up with an elegant design showcasing her cosmetics. There are beautiful photos that fade in together creating an animated effect. Especially enjoyable are the voice recordings Isabella did for the site. It's a delight clicking on various links and hearing her charming accented voice giving me makeup tips! Click here to go to her site.
July 26, 2001 – Isabella is quoted in Cindy Adams' NY Post column of collected tidbits:

"So here's what they're saying: Isabella Rosellini:

'Women are kinder, sweeter than men. We don't love you for how you look but how you think. Anyone who's seen my lovers knows I don't go for beauty.'"
July 21, 2001 – A well known quote by Ingrid was chosen as the "Thought for Today" in the Associated Press' Today in History column:

"Happiness is good health and a bad memory." – Ingrid Bergman, Swedish-born actress (1915-1982)
July 19, 2001 – Isabella hosted the prestigious Live from Lincoln Center in NYC, broadcast on PBS. Looking very stylish in a gold satin blouse and necktie under a black vest, she introduced the evening's guests as she stood outside on the balcony overlooking the plaza filled with folks dancing to the lively music.
By hosting this event Isabella followed in the footsteps of her sister Pia Lindstrom who hosted two previous Live from Lincoln Center broadcasts back on Nov. 14, 1979 and May 28, 1980.
July 10, 2001 - Isabella's 1998 film Left Luggage is finally being released on video and DVD in the U.S. today. Isabella's performance has been highly acclaimed. She won or was nominated for Best Actress at the Berlin Film Festival for this role.
May 31, 2001 - The Museum of the Moving Image in Queens, NY launches its Gary Cooper retrospective this weekend, honoring the 100th anniversary of his birth. Among Cooper's films being shown is his 1st with Ingrid Bergman For Whom The Bell Tolls (1943), June 17th at 4:30pm. Gary Cooper: A Centennial Celebration runs through July 1st.

-NY Daily News
May 18, 2001 - Isabella has been cast in the TV mini-series of Napoleon (see earlier post). It is A&E's most expensive original production. It's slated to air in early 2003. A&E hasn't decided how -- or how much of -- Napoleon will run on the network. "We haven't come to grips with that yet," senior vp original programming Allen Sabinson said. "An eight-hour version is being shot, but we're also going to look to see if it works better in a shorter format. We'll be committed to putting on the best possible version of the film."

- Jim McConville, Variety
May 2001 - Isabella is on the cover of Money for Women magazine. It's a special issue from Money magazine and is on sale through June. Three lovely color photos (including cover) of Isabella along with a very good interview.
April 2001 - Donald Spoto's 1997 biography of Ingrid, Notorious, is released in paperback.
Mar. 30, 2001 - Isabella makes another delightful guest appearance on The Late Show with David Letterman and reveals she has become a U.S. citizen in the past year and voted for the first time in November. Dave immediately blames her for the Presidential election mess.
Mar. 3, 2001 - Isabella Rossellini is in negotiations to play Josephine in the big-budget miniseries Napoleon, produced by Jean-Pierre Guerin's GMT Prods., a company source said. Rossellini's reps confirmed Friday that she is in negotiations for the project. She is repped by New York-based management firm Parseghian Planco. Christian Clavier (The Visitors) will play the title role, with Gerard Depardieu as minister of police Fouche and John Malkovich as the influential minister Talleyrand. Screenwriter Didier Decoin adapted Napoleon from the novel by Max Gallo. The director will be Canadian Yves Simoneau, who recently helmed TNT's wartime drama Nuremberg. The $30 million four-part series will be shot in English and French.

- The Hollywood Reporter
Feb. 27, 2001 - Neither rain, nor snow nor sleet shall keep Isabella Rossellini from her appointed rounds. When last Thursday's storm prevented a limo from picking her up at her Upper East Side home, the actress hopped a bus and the subway to get to the Directors Guild of America Theater in Midtown for the opening of the Israel Film Festival. She was there to present a lifetime award to Sidney Lumet, who directed her mother, Ingrid Bergman, in her Oscar-winning performance in Murder on the Orient Express.

- PageSix.com
Feb. 19, 2001 - Isabella performed in a special benefit reading of the old camp classic prison movie Caged at Town Hall. The benefit is for God's Love We Deliver. Other cast members: Lily Tomlin, Lypsinka, Charles Busch, Lorna Luft, Varla Jean Merman, Wallace Shawn, and Joan Rivers.
Feb. 7, 2001 - Isabella cohosts Live with Regis talk show for the whole hour. She looks great and talks a bit about how she doesn't like going out to eat that much. Her big plans for that night consisted of helping her little boy write his first report for school on Martin Luther King, Jr.
Oct. 16, 2000 - In Liz Smith's NY Post column, she mentions that Donald Spoto will be producing a miniseries for CBS based on his biography of Ingrid. No word yet on when or casting. Can't wait to learn more!
Oct. 2000 - British Vogue conducts a Ten Most Stylish Women poll, and readers choose Isabella as #1 most stylish!
Aug. 3, 2000 - Ingrid's daughter, Pia Lindstrom, marries attorney Jack Carley in sister Isabella's apartment. According to Liz Smith's NY Post column "Pia says she has so many half-brothers and sisters that she'll have no room for anybody at the ceremony except family."
May 24, 2000 - Dr. Petter Lindstrom, Ingrid's first husband and father of her daughter Pia, died in his Sonoma, CA home at the age of 93. Dr. Lindstrom was formerly a dentist and became a highly respected brain surgeon. He is survived by his wife, Dr. Agnes Ronavec, whom he married in 1954; his daughter Pia, of NYC; and his four children with Ronavec - Peter of Ridgecrest, CA; Michael of Boise, Idaho; Brita of San Diego, CA; Carl of Sonoma, CA; and eight grandchildren.

- San Francisco Chronicle