click on thumbnails for larger photos

From the July 2002 issue of Interview Magazine: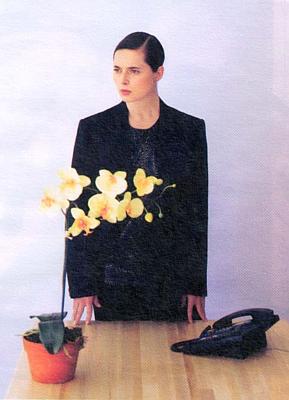 The uncanny resemblance between actress Isabella Rossellini and the model Malgosia Bela was the inspiration for this month's fashion narrative - shot by Dick Page and James Gibbs. Creating a visual tale of estrangement and ambiguity, the pair liken their portraits to film stills, and even found themselves conjuring scenes from Ingmar Bergman's film Autumn Sonata (1978) during the shoot.
---Interview editors
A MAGAZINE MOVIE
Fashion Photographs and Story by Dick Page and James Gibbs

In downtown New York a young woman sits on her bed with a laptop. The small, untidy room is dark. She is absorbed in the information on the screen and the decisions she has to make. She wears no makeup and her hair is quite a study in disarray. In the dim light from the screen you might take her for a beauty, and you would be right.

It is a bright, pale morning. Another woman in another part of town is drinking coffee as she opens letters in her apartment. One is set in a distinctive hand. She takes it out to her terrace to read and to feel the breeze before the city heat sets in. She is exquisite, impeccably groomed and as lovely as she was in her twenties, but she has an air of melancholy. She seems distant and preoccupied. This letter surprises and moves her. When she finishes it, she feels something like hope stirring and is surprised again.

The younger woman, with a drink ready, calls his number, hoping it hasn't changed. She listens intently to the familiar voice on the answering machine. After the beep she takes a deep breath and leaves a message, all apologies and hesitant questions.

Two days later, in his house, they sit together in a room piled high with books, talking and catching up. He has kept a small box and is sweetly showing her things she hasn't seen for some time. He finds a photograph and says: "That was before you cut your hair." She starts to cry.

As soon as she leaves he calls the other woman. At her apartment they talk over a glass of wine. "She is sorry and desperate to see you," he says. She asks: "Does she seem well? It's been so long, I didn't even know that was where she was living...." "Everything's changed," he replies. "She's changed - I don't think she knew what she was getting herself into." "I do want to see her," she confesses.

In the back of the limousine, going to another party celebrating God-knows-what in honor of God-knows-who, she sinks into the seat, exhausted. All she can think about is tomorrow... How will she find the words and what will they be?

Our young woman again, at a restaurant. Not entirely at ease in the new outfit, she is seated at a table by the window. She scans the street, watching nervously for her.
THE END

PREVIOUS ~ ISABELLA PORTRAITS ~ NEXT



| Home | News | Ingrid Photos | Isabella Photos | | Articles |

| Links | View Guestbook | Sign Guestbook | E-Mail |